Watching his sons wrestle with the family dog, Andrei is lost in thought. "In Russia, our biggest concern was for our kids," he said. "We worried that in the future, there would be some problem with authorities. Right now, I am absolutely confident that our kids will be okay."
Today, Andrei and Egveny are where they want their family to be. But a few years ago, while living in their native Russia, things looked very different.
While Andrei and Evgeny were already a couple at the time their sons – now 14 and 15 – were adopted, only Andrei was allowed to sign the papers. In Russia, even that legal status didn't offer the family much protection. Equaldex ranks the Russian Federation at 15 out of 100 for LGBTQIA+ rights and anti-LGBTQIA+ public sentiment remains high.
"They had asked me why I wanted to adopt a child, and why I was unmarried," Andrei said. "And several lawyers confirmed that the authorities could take the children away from me."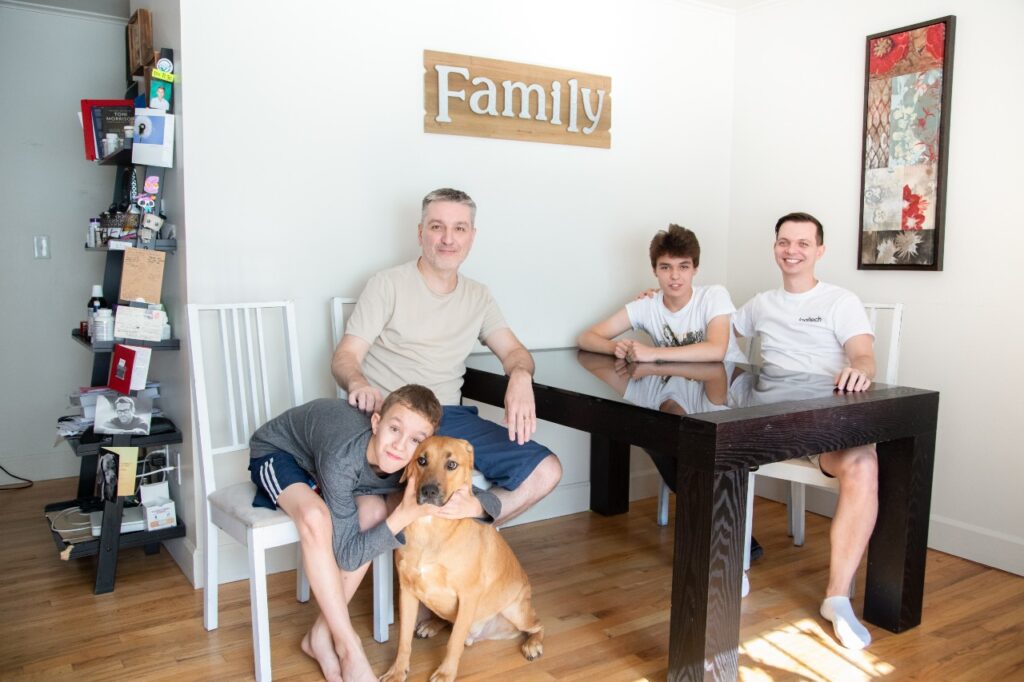 In June 2019, their younger son experienced a medical emergency and Andrei called the paramedics. An ambulance took the boy to the Pediatric Urgent Surgery and Injury Hospital, where a doctor found out the boy lived with his father, Andrei, his other father, Evgeny, and his brother. The doctor reported that information to the Russian Investigation Committee.
When an attorney recommended they leave the country to protect their family, Andrei packed two suitcases and immediately fled to Ukraine with the two boys. Evgeny joined them soon after. Two months later, in 2019, the family came to the US. They hadn't planned to stay.
"We believed that things would settle down," Andrei said. "That after this situation, everybody would forget about us, and we could go back home."
A Russian news article sent by a friend changed that. There was talk of starting an international investigation into their situation. The couple decided to apply for asylum and found an attorney through friends in Seattle. Soon, everything began to change.
They felt relatively safe in their new country, but knew the days ahead would bring daunting challenges.
"We learned that it's important to ask for help when you need it," Evgeny said. "Sometimes it's really difficult to ask – to say, 'I need help,' but sometimes it is necessary."
Encouraged by a friend to reach out to Hopelink, the couple found the network of support they needed to help navigate their new journey. They signed up for food assistance at Hopelink's Bellevue Center and learned about other Hopelink programs and services – including energy and financial assistance, support with rent, and English for Work classes. And – for the ambitious Evgeny –Hopelink's employment program.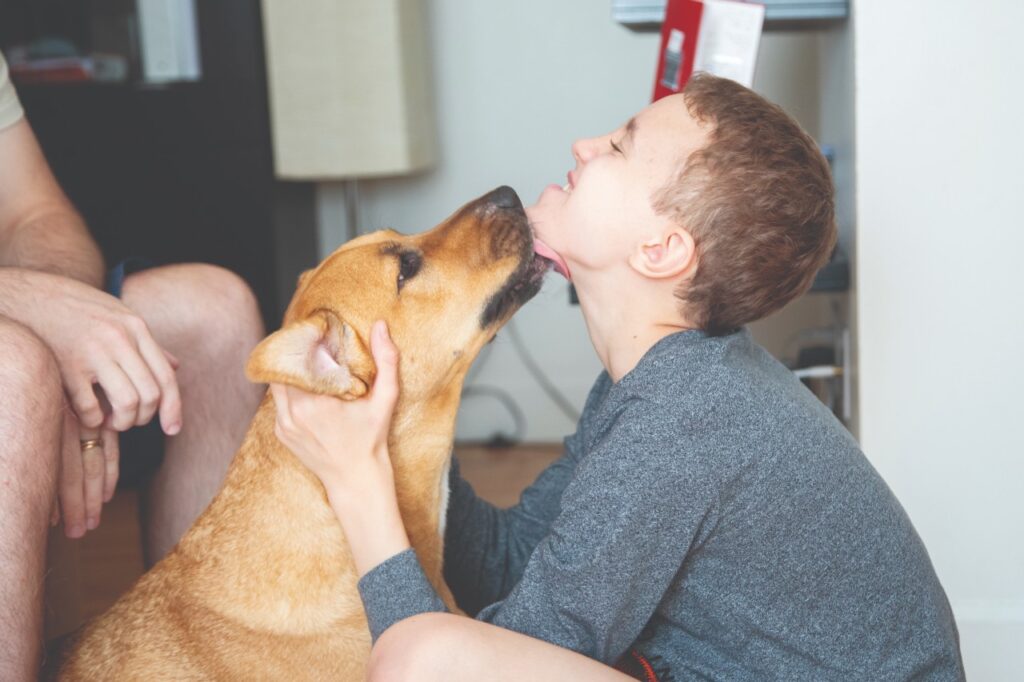 Ironically, he was approved to work in March 2020, just as the COVID-19 pandemic sent the economy into a tailspin. He wasn't deterred. Soon, Evgeny's work with a Hopelink employment specialist paid off.
"I applied for a lot of positions," he said, "and I found a job in six months." Today, Evgeny is applying to the Foster School of Business at the University of Washington and has set his sights on landing a key position at a big tech company.
Completing the asylum application process is the next step in the family's journey, and they're hoping to meet with an immigration officer soon. Results could come quickly or take up to a year, but they aren't waiting for the official paperwork to fully engage with their community.
One of the things that has surprised them the most about the US is the sense of connection they've experienced everywhere. "You belong to neighborhoods, to the city, to the region."
That holds true for their sons as well, who were surprised their new classmates were so welcoming. And the couple are grateful for the support their sons have received at school – including Russian tutors to help with their studies. Both have adapted well to their new lives, and both are now able to understand and converse in English.
Today, Andrei and Evgeny talk about their journey as a series of pillars building a new, stronger foundation. Gaining asylum will be the first, they say, and both having good jobs and no longer having to ask anyone for help will comprise the second. Education is the third pillar, to help Evgeny advance in his career.
The most important? That happened a year ago, when Andrei and Evgeny filed a petition with the state to add Evgeny as Denis and Iurii's legal father. Now, the boys' birth certificates bear both fathers' names. Their dream for their sons is that both will become an active part of society, and have their own, meaningful lives.
Meanwhile, as the couple plan a future they hope will include citizenship, home ownership, and volunteering to help other immigrants, their son Denis has a more immediate – and fully American – goal: passing his driving test. Settling into a new life looks a little different when you're about to turn 16.