Schedule a phone appointment by clicking the link above or by calling 425.658.2592.
Please note that appointments are limited and get filled very quickly. If appointments are currently full, please try the following Monday morning when a new week of appointments become available.
If your power is disconnected, you can call your local Hopelink office and/or 211 to check for potential crisis funding options.
Energy Program Overview
Hopelink may be able to provide up to $1,000 of your home heating costs each year. If you qualify for the program, you can receive assistance even if you are not behind on your bill and/or have not received a shut-off notice. PSE customers may also enroll in a Bill Discount Program to reduce the overall cost of your energy billing. The goal of Hopelink's energy program is to keep members of our community safe and warm, and to contribute to a stable home environment. We believe a household should never have to choose between heat and electricity or other necessities, such as food, health care, or shelter. Energy assistance funds enable our community members to devote their resources to other crucial expenses. Eligible households with the highest heat costs receive the greatest assistance.
What You Need to Know
Assistance can range from $200 to $1,000 per household, and vary from year to year based on:
Cost to heat a home over the previous 12 months
Household's average monthly income
Number of people in the household
LIHEAP (Low-Income Home Energy Assistance)
Funding Available October through mid-September each year
Natural Gas
Electricity
Oil
Propane
Wood and wood pellets
LIHEAP eligible households who do not have access to air conditioning may qualify for a portable AC unit, depending on the time of year and available funding.
LIHEAP grants can also cover situations where your heat bill is included as part of your rent.
PSE HELP (Puget Sound Energy – Home Energy Lifeline Program)
The PSE HELP Grant is available to Puget Sound Energy Customers with incomes at or below 80% area median income. PSE Customers may qualify for both LIHEAP and PSE HELP. Enrollment in PSE HELP also enrolls you in the PSE Bill Discount Program, adding a 5% to 45% ongoing monthly discount on your energy billing rate for lower bills overall. Clients can apply without additional documentation or proof of income, through Hopelink or directly via pse.com.
People who have been disconnected or have less than a 10-day supply of oil, wood or propane, should call their nearest center to schedule an emergency appointment.
In addition, those who have a disconnection notice should contact their energy provider immediately:
Puget Sound Energy (PSE):  1.888.225.5773
Seattle City Light (SCL):  206.684.3000
Eligibility
You must live within one of the following zip codes in order to qualify for Energy Assistance through Hopelink. If you live within the following zip codes, please proceed to the "Income Eligibility" chart below.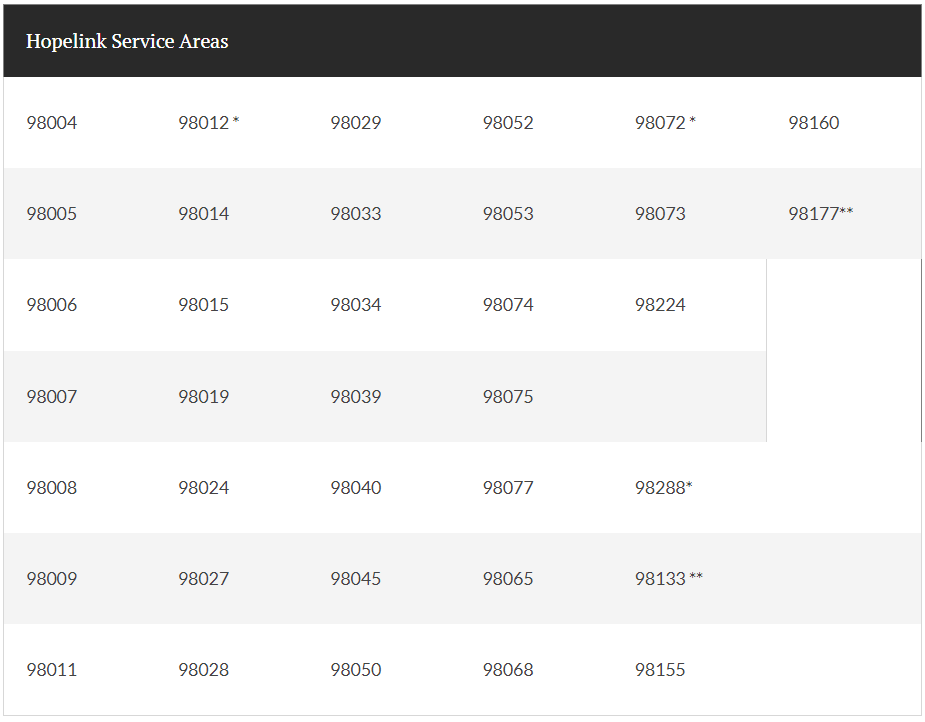 (*)King County Only
(**)North of NE 145 St.
For the October 2023 – September 2024 Energy Season: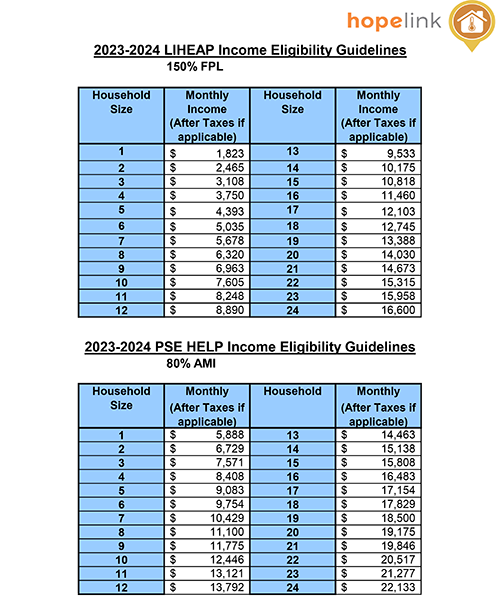 If your household income qualifies for Energy Assistance, please proceed to the "Ways to Apply" drop-down below.
If your power is disconnected, you can call your local Hopelink office and/or 211 to check for potential crisis funding options.
If you fill out your own packet and drop it off at a center or email, you will not need a phone appointment. If you are not sure what documents to include with your packet, you can make an appointment instead and a specialist will help you figure out what you need. 
Our goal is to get funds to you as quickly as possible. Having all your documents collected at the time of your phone appointment may help us process your application faster. If you are not sure what documents you need or do not have documentation of your income, your specialist will help you figure out what paperwork you need during the appointment. They can also help you find the easiest way to send in your documents.
PSE HELP applications will be processed without any required documentation such as proof of income or social security number, while LIHEAP assistance will require all listed documentation.
Please see this checklist of needed paperwork to have ready:
An application may take up to 6 weeks to complete. Continue paying bills and/or make payment arrangements to prevent disconnection. Once complete, Hopelink will send a letter informing applicants whether they qualify.