The Hopelink Harvest Program provides fresh, nutritious food options to our community by partnering with local farms and harvest fields located near our five Hopelink Food Markets. If you need food assistance you can sign-up for the program through the Hopelink Food Program.
Hopelink Harvest is committed to increasing access to healthy food. Along with supplying local produce to the food markets, the program also collects donations for surplus produce from farmers markets, community gardens, and individual growers. Through the generosity of our farm partners, more than 118,700 pounds of fresh produce made their way from farm to table in 2022.
Fresh and nutritious foods can be seen as a luxury item given the inflated costs of these products in grocery stores. The program seeks to put culturally relevant, local, and nutritious produce in the hands of Hopelink clients. Our goal is to promote healthy eating which in turn benefits clients in helping to sustain a healthy lifestyle.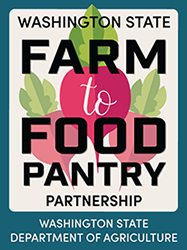 Volunteering with Hopelink Harvest
Volunteering with Hopelink Harvest is a truly exciting way to get engaged in Hopelink's work while also learning about food and farming. We welcome new volunteers for the following positions: 
Volunteer in Hopelink food bank gardens, weeding and harvesting fresh produce. Shifts are two 2-hours at Bellevue, Carnation, Kirkland.
Volunteer in Hopelink food bank gardens, weeding and harvesting fresh produce. Shifts are two 2-hours at Bellevue, Carnation, Kirkland.
Hopelink Harvest is always looking for drivers for a variety of needs.
Hopelink Harvest welcomes local farms and community partners that are interested in donating and volunteering to the program.
Farm & Community Partners
Blue Dog Farm 2012
Bob's Corn & Pumpkin Farm 2015
Carnation Farms 2013
Carnation Farmer's Market 2012
Chinook Farm 2013
Clean Greens Farm 2012
Cottage Heirloom Blueberry Farm 2016
Dancing Crow Farm 2013
First Light Farm 2013
Food Bank Farm 2013
Kosters' Farm 2015
Local Roots Farm 2015
Mezza Luna Farm 2015
One Leaf Farm 2012
Oxbow Farm & Conservation Center 2012
Present Tense Farm 2012
Skylight Farms 2016
Sound Sustainable Farms 2017
Summer Run Farm 2017
History
Sno-Valley Harvest was founded at Hopelink in 2011 in partnership with Rotary First Harvest and AmeriCorps*VISTA. The partnership provided three years of funding to support AmeriCorps*VISTA volunteers who collaborated with Hopelink staff and community partners to found and grow the program. Over 109,000 pounds of produce was collected and distributed at Hopelink and other local food banks over the first three years of the program. With the end of AmeriCorps*VISTA funding for Sno-Valley Harvest in 2014, Hopelink has been proud to take on full ownership of the program and is always passionate about expanding the program's operations and impact each harvest season.
Why Healthy Food Matters
The United States Department of Agriculture defines food insecurity as "limited or uncertain availability of nutritionally adequate and safe foods or limited or uncertain ability to acquire acceptable foods in socially acceptable ways." In Washington, 14.6 percent of households experienced food insecurity, with 6.1 percent of households falling within the "very low food security" category. Food insecurity is associated with poor dietary intake among seniors and younger adults, and has a variety of negative impacts, particularly related to health and the ability for children to learn in school. By providing a consistent and direct source of fresh and locally grown produce, the Hopelink Harvest program is a critical component of ensuring that all members of our community have access to healthy food.