Dr. Catherine Cushinberry to Serve as the New CEO of Hopelink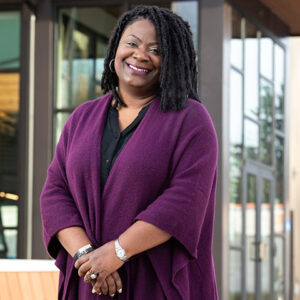 Dr. Cushinberry is a visionary who has worked to improve the lived experience of children and families for more than 20 years
REDMOND, WA – (March 22, 2021) — After conducting a national search, Hopelink has hired Dr. Catherine Cushinberry as its new CEO, replacing Lauren Thomas, who retires in April after seven years at the helm of the non-profit human services agency which focuses on building an equitable community free of poverty. Dr. Cushinberry previously served as executive director of City Year Memphis, in Tennessee. City Year is a national service program that unites young adults from diverse backgrounds for a demanding year of full-time community service. She will begin her tenure the week of April 19, which coincides with the week of Hopelink's founding 50 years ago.
"I am honored to build on the prestigious legacy and impactful work Hopelink has established through the leadership of Lauren, prior CEOs, board members and the organization's dedicated, passionate staff, donors and volunteers," said Dr. Cushinberry. "My career has been focused on creating platforms to improve the lived experiences of children and families. As the incoming CEO, I want to first listen, learn, observe, and then work alongside the team to strategically expand the depth and reach of our services and partnerships.
"I am excited to establish roots here and contribute as a member of the community," she said. "I am also proud to have the opportunity to serve alongside colleagues who've built such an incredible organization and to lead Hopelink as we build our future together."
Prior to her time at City Year, Dr. Cushinberry served for five years as the director of research for the National Office of Girls Inc. and four years as the executive director of a Boys and Girls Club in Tennessee. She also owned a consulting business and worked with clients in the U.S. and the Philippines, where she lived for a year. During her career, Catherine has published regularly on a wide variety of topics, including diversity issues and science, technology, engineering and math (STEM).
"Dr. Cushinberry is the right person at the right time for Hopelink as we celebrate our 50th year of service to the community and look toward the future," said Drew Magill, the organization's chair of the Board and member of the search committee. "She's a visionary leader who brings a fresh perspective, a passion for listening and learning, a commitment to continuing our equity initiatives and, most importantly, a history of bringing community together to collaboratively address complex and long-standing challenges."
"Our retiring CEO Lauren has grown this organization, improved services and is leaving Hopelink a healthy and well-respected organization," Magill said. "Dr. Cushinberry will build on the strong foundation she's inherited and take Hopelink to the next level in its service to community."
Dr. Cushinberry has a doctorate from the University of Missouri-Columbia in human development and family studies. Her Master of Arts from the University of Memphis and Bachelor of Science from Murray State University are in Organizational Communication.
"I couldn't have hoped for a more dynamic, creative, engaging and committed person to take Hopelink into its second 50 years," said Thomas. "Our clients, staff, donors, volunteers, partners and the entire community are going to benefit from the insight and experience she brings to this community."
Catherine Cushinberry was born and raised in the Smokey City neighborhood in north Memphis, Tennessee and she's a product of Memphis City Schools. She is the only child of Matilda Cushinberry, a retired educator from Memphis City Schools. She is also a member of Delta Sigma Theta Sorority, Inc.
About Hopelink
In 2020 Hopelink served nearly 65,000 people in King and Snohomish Counties. Our services are designed to help individuals and families find stability in crisis by meeting basic needs for food, shelter, heat and transportation. In addition, we support people working hard to build a path out of poverty through adult education, financial capabilities classes, help finding a job and family development support through comprehensive case management. Our organization also provides services through a trauma-informed lens, recognizing that the violence of poverty leaves scars, both mental and physical, that have long-term effects on how people perceive the world and choices they make.
Media Contact:
Todd Langton, Communications Director
tlangton@hopelink.org
425.495.3507
Or
Kris Betker, Communications Manager
kbetker@hopelink.org
206.605.6843